One of the occasionally contentious and often confusing questions in comics is the nature of the collaboration between writers and artists. Leaving aside the grand debates about Stan's work with Jack and Steve since all three are or were friends, even in the much more modest cases there's often no clear cut boundaries that are consistent from situation to situation.
So when I'm working with an artist in a true collaboration, inviting them to participate in the direction of the story and its structure, I've often adopted the practice of jointly asking us to be credited as "storytellers." This last month's issues provide some interesting examples of that, which I thought I'd share.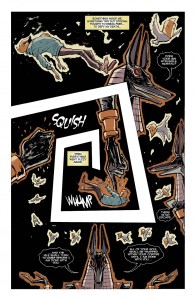 DOCTOR FATE #7 was a particularly challenging (and therefore particularly delightful) art task–largely inventing a view of the Duat, the Egyptian underworld. Unlike the Greek/Roman land of the dead, it's largely unknown to modern readers, and didn't have a long tradition of being depicted in Western art. Some depictions survive from when it was an active religion rather than a historic mythology, but not much. So Sonny had a lot to do in bringing the dead to life, and he did it in incredibly well. I got a book of Egyptian mythological art from Columbia's library, ordered a dupe for him and shipped it off to Singapore, and we went to work.
But he also contributed to the story structure. The way I'd set up the final battle didn't choreograph particularly well for him–how Thoth's staff merged with Khalid's DNA and the bouncing around of Khalid's heart didn't make a clear visual story. So Sonny built out an alternative choreography, and I adjusted the copy a little to fit.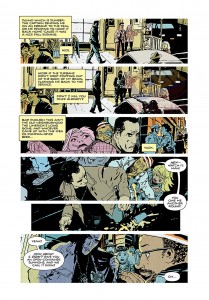 BROOKLYN BLOOD premiered this month too, and because of geography, this represented a different kind of collaborative opportunity. Tim Hamilton and I were able to get together a couple of times to flesh out the story as it will evolve over its 15 or so chapters, and he's been able to make suggestions based on the years he's been living in Brooklyn of specific locales in addition to the ones I called from my old days in Brooklyn or more recent visits.
I've been incredibly lucky in my collaborators over the years, and while some of the great artists had no desire to get involved beyond their officially appointed tasks, it's great fun to play with those who do. And of course, some of the artist who've drawn my stories are also brilliant writers too (I knew Keith should be writing comics long before he started to…).